Truth or Consequences
Rock & Gem Show
The Truth or Consequences Rock & Gem Show will offer the opportunity to see and learn about gems and minerals, buy beautiful and unique gems, minerals, and crystals, attend interesting lectures, and watch demos!
Gold and sapphire panning, field trips, and Wheel of Fortune!
Saturday 9am-5pm
Sunday 10am-4pm
Sierra County Fair Barn
1321 Hyde Ave
Truth or Consequences, NM
Presented by the Sierra County Rock and Gem Society (SCRAGS)
SCRAGS invites you to join us for this special event. You'll have the chance to win a variety of great door prizes. Attend field trips! Pan for gold and Montana sapphires! You'll find all kinds of interesting activities in the town of T or C, including access to the healing mineral hot springs available at ten spas downtown.
Rock & Gem Show Highlights:
Vendors: mineral and gem dealers, beads,
jewelry makers, area museums
Join a field trip to SCRAGS' rockhounding claim on Saturday and Sunday
The Wheel of Fortune
Spin our Wheel of Fortune to win great rocks!
Demos
Watch wire wrapping and weaving demos, see polished and tumbled rocks at different stages
Presentations on local and state geology, rock and gem formation, identification, and other related information
Food and beverage services onsite and nearby
Gold and sapphire panning
2023 Truth or Consequences Rock & Gem Show Vendor Application
All 2023 vendor tables are sold out! We're going to have a great show!
For any vendor-related questions, please email scragssierracounty@gmail.com.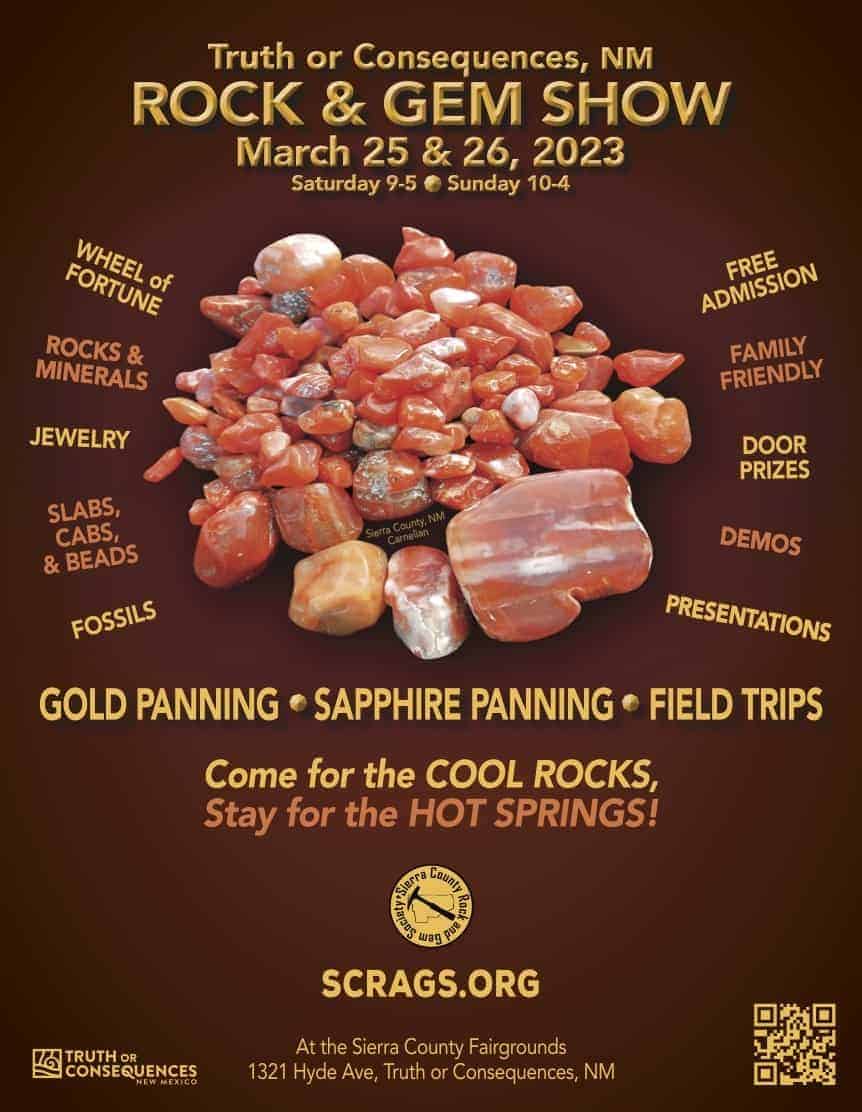 The 2023 Rock & Gem Show is paid for in part by the Truth or Consequences Lodgers' Tax Fund.